"Success Breeds Success"; Steve Goodman on Building Entrepreneurial Community
Note: This interview with emerging growth attorney and startup mentor Steve Goodman kicks off the first in a series about creating great communities. In this series, we'll ask community builders about their best practices, what works and what goes wrong in creating communities – online and In Real Life (IRL).
Steve Goodman is an emerging-growth company specialist from the Philadelphia office of law firm Morgan, Lewis & Bockius. He is also a Philadelphia Startup Community rockstar. He has helped to create the highly successful Philly Startup Leaders, its annual conference (The Founders Factory) and the MAC Alliance (Mid-Atlantic Capital (MAC) Alliance supports emerging and growing businesses in the Mid-Atlantic region by linking venture investors, professional advisors, and entrepreneurs to foster growth and innovation).
Last fall, I had a chance to ask Steve a few questions about his secrets for creating a community. I can't think of a better way to kick off the series than by sharing wisdom from the Godfather of the Philadelphia Tech Startup community.
1) Steve, how would you characterize successful communities that you've helped to build?
Steve tells me that community building for him is about "being passionate about a cause or an initiative". He has a deep passion for making a difference and helping to build the entrepreneurial eco-system. "The eco-system has done so much for me. Its great a great community and it is making a difference."
2) Steve, what are the hallmarks of building a "strong community"?
There are two:
a) participants with cross-disciplinary expertise that create an eco-system, and,
b) organization and connectivity
3) What are some of your community building best practices?
Avoid replication. Identify a need and, to the extent others can fill it, partner and combine with them so there isn't competition. Emphasize coordination instead of competition.
4) what roles need to be filled early during a communities growth?
You need an infrastructure of key players – in which all are passionate and complement each other. You talk with each other about what's needed – and get together. People like Roseanne Rosenthal, Steve Tang, Tom Morr, Walter Buckely and Doug Alexander – each has their tentacles up and an ability to help.
Once again, teamwork and collaboration is the Hallmark.
5) what helps sustain a community over time?
It feeds on itself. Success breeds success. A sustainable community must show that its efforts bear fruit.
————–
Steve's comments led me to see the community as a vibrant eco-system of interacting people, each bringing their unique talents and insights to the table. He lays out the clear need for strong organization, value add conversations and a results oriented mission.
Thank you, Steve!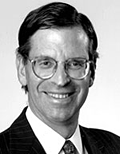 Stephen M. Goodman is a partner in Morgan Lewis's Business and Finance Practice and has been with the firm since 1994. His practice, focused on corporate finance and acquisitions, is dedicated to fostering emerging growth companies in the region through direct work with clients and active involvement in the emerging growth community. As strategic counsel to startups in the technology and life sciences sectors, Mr. Goodman identifies companies with potential and then takes them from conception through product development, growth and beyond. Some of the companies he has nurtured include CDnow, VerticalNet, ICG Commerce, AirClic, ExcelleRx, and AANet.com.